feel free to call us +91.33.26789234 youremail@yourdomain.com
Europe-Based Training Scholarship Deadline Has Been Extended!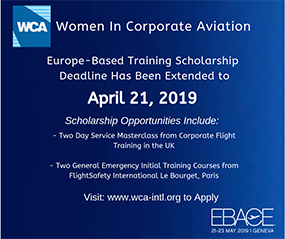 Related Articles
Stacy Everitt

, , News, 0

---

If you enjoyed our International Women's Day video, be sure to subscribe to to see more! Plans are in...

Amanda Zeeb

, , News, 0

---

Women in Corporate Aviation Media Contact: Stacy Everitt News@wca-intl.org News Release FOR IMMEDIATE RELEASE Women in Corporate Aviation announces...

Amanda Zeeb

, , News, 0

---

Greetings From Corporate Development By Lisa Lewis WCA would like to take the time to recognize and thank all of...

Amanda Zeeb

, , News, 0

---

Mentorship Update By Rachael Borsa The Mentoring program is wrapping up our 3rd year and gearing up for a...
Recent Posts
Newsletter Sign Up
[contact-form-7 404 "Not Found"]