feel free to call us +91.33.26789234 youremail@yourdomain.com
WAI 2020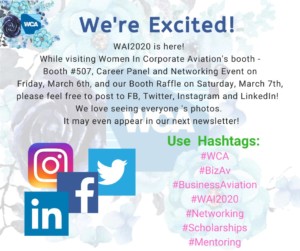 Related Articles
Amanda Zeeb

, , News, Scholarships, 0

---

We are one week away from the closing of our Spring Scholarship Offerings and we encourage everyone to apply!Deadline...

Amanda Zeeb

, , News, 0

---

Have Scholarship Questions?  We Have Answers!  Join Us Monday, March 8th @ 6PM EST! Here's the link: Join Zoom...

Stacy Everitt

, , News, 0

---

NBAA's 2019 Maintenance Conference is now in session at the Fort Worth Convention Center, Fort Worth, TX, May 7-9, 2019! Laura...
Recent Posts
Newsletter Sign Up
[contact-form-7 404 "Not Found"]