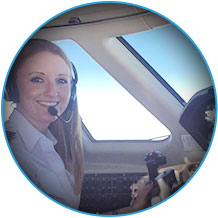 Kim Miller – Volunteer Coordinator
Kimberlie (Kim) Miller began flying at the age of 13 in the Pacific Northwest. She graduated Central Washington University in 2002 with a Bachelors Degree in Industrial Science emphasis on Flight Officer Training.
After college, she returned to the Portland Oregon area and started her career in corporate aviation. She has flown and managed a variety of aircraft. Currently, she is Chief Pilot on a Cessna Citation XLS+ and is President of NW Jet Management.
Kim and her husband, who is also a professional pilot, live in SW Washington in the country, but not far from Portland International Airport (KPDX). They have a 4-year old son who is already enamored with anything aviation related. When not working, they enjoy flying their family Cessna 206 and doing anything outdoors!
Kim has been a member WCA since 1999. She currently is our WCA Volunteer Coordinator, serves on the Development Committee, and as a Mentor in our Mentorship Program. Kim has a passion for networking and mentoring to help other women and men succeed and follow their dreams.
Kim is also a member of: WA State WAI Chapter, Rose City WAI Chapter, Pacific NW Business Aviation Association. Board Member: Central Washington University Aviation Advisory Board. Volunteer Pilot: Corporate Angel Network & Veteran's Airlift Command.