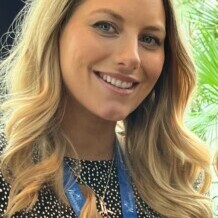 Emily Kennedy – Volunteer Coordinator
Emily is a graduate of the Aviation Institute of Maintenance and obtained her Airframe and Powerplant Certificate in 2021. As a fresh A&P, she is excited to gain experience and knowledge working on business Aircraft and learn the in's and out's of the corporate aviation industry. She is currently a technician at Medway Air Ambulance at Gwinnett County Airport in Georgia. 
Before starting her A&P Certificate, Emily was working towards her Bachelor's degree in Aeronautics, with a minor in Aviation Safety through Embry-Riddle Aeronautical University Worldwide. Now that she has her A&P, she has enrolled back at ERAU to finish her degree. 
Emily became a member of Women In Corporate Aviation in 2019 after attending the WAI conference. She has since become the WCA Volunteer Coordinator and looks forward to contributing to the organization as much as possible. Knowing the importance of mentorship through WCA, Emily hopes to become a mentor to other young females who are interested in aviation maintenance."
Please feel free to reach out to Jennifer at Volunteer@wca-intl.org