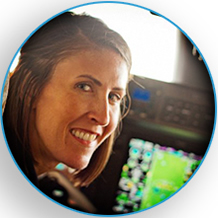 Lisa Lewis – Corporate Development
Lisa Lewis is currently a Director of WCA and head of Development, as well as Airborne Product Support Pilot for Gulfstream Aerospace Corporation. This position involves rapid-response flight operations in a Gulfstream 150 to support customers facing aircraft-on-ground challenges.
Prior to Gulfstream, Lisa was the Director of Flight Operations for Purdue University's Aviation Technology Department. This position included oversight of University Air Transportation, Student Flight Instruction and Simulation—as well as providing professional instruction to students in both a training and air transportation environment in a Beechjet 400A and Phenom 100.
Before Purdue, Lisa spent ten years flying all over the world as a corporate pilot with two different companies. Lisa completed a Master's Degree through Embry-Riddle Worldwide University in Aeronautical Sciences with a focus in Safety Systems, as well as an undergraduate degree in Aviation Flight Technology from Purdue University.
Lisa can be reached at development@wca-intl.org